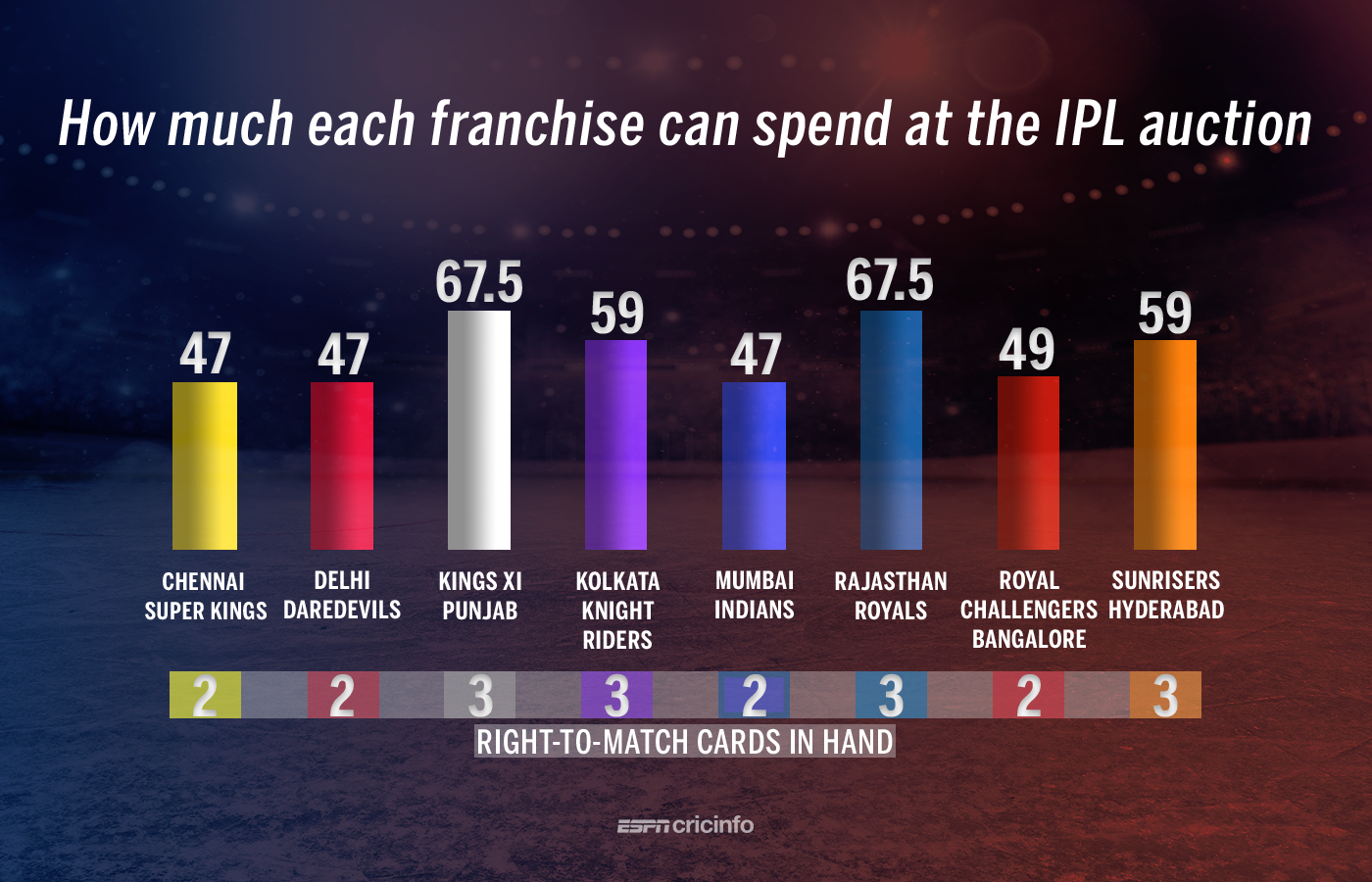 From 2008, when Royal Challengers Bangalore picked a squad full of Test players, to 2017, when a teenager from Afghanistan was signed for INR 4 crore ($600,000 approx.), the IPL auction has come a long way. Franchises have become smarter and are making better-informed decisions. The 2018 auction will be the fourth mega-auction in which all players, barring the handful retained by the franchises, go under the hammer. It can be argued that a good auction is 50% of the job done - what can we look forward to this time around?
Identify leaders
Kolkata Knight Riders, Delhi Daredevils and Kings XI Punjab are yet to appoint or identify their captain. These three teams may look at leadership options early in the auction and can be expected to bid big on a few of them. Historically, overseas captains have not been as successful as Indian captains. Shane Warne (2008), Adam Gilchrist (2009) and David Warner (2016) are the only ones to win the tournament. Many other overseas captains have been removed mid-way through the tournament or have failed to make an impact. There could be multiple reasons for this - chiefly the fact that teams can only play four overseas players in their XI - but it is important franchises keep this in mind before choosing a captain. While Faf du Plessis and Kane Williamson are two serious overseas-captain options, neither has been a consistent member of playing XIs over the last two years, and it would be a surprise if teams choose either of them as captain.
There aren't too many proven captaincy candidates among the Indian players up for auction either. Gautam Gambhir, a two-time IPL winner, is expected to lead either Knight Riders or Daredevils while R Ashwin could be a potential leadership choice given his captaincy experience with Tamil Nadu. Manish Pandey, Harbhajan Singh and Yuvraj Singh are other possible captaincy options. Moreover, these players may be sought after by teams that already have captains because of the cricketing skills they offer. So teams seeking to play them as captain would like to have other options too. Barring Pandey, the other four are part of the marquee set and franchises will want to ensure they have settled on their leader before building the rest of their squad. However, with the marquee players not necessarily the most wanted players, it will not be a surprise if a few marquee players go unsold in the first round or go for a much lower price than expected, with franchises saving up to buy more in-demand players later in the auction.
Similar combinations, if not the same players
Having retained a few players already, most of the franchises could look to buy back players who have played for them in the last two seasons rather than building an entirely new team. Historically, Chennai Super Kings, Mumbai Indians, Knight Riders and Sunrisers Hyderabad have swapped very few players and ensured the core squad remains the same. This has been a successful model across the world, as the likes of Perth Scorchers and Trinbago Knight Riders have shown. It would not be a surprise if teams like Super Kings and Mumbai look to bring back at least 60 to 70% of their players from recent seasons. In case they are not able to get the players, they will look for the same combination that has worked for them. However, less-successful teams such as Kings XI and Daredevils may look to revamp their squad yet again in search of that elusive title.
Wristspinners and wicketkeepers
As with any auction, supply and demand determines the cost of the player. The T20 format does not favour pure wicketkeepers. At some level, they are a liability. Power-hitting keepers or opener-keepers are likely to be in demand because they help balance their squads. As always, such players are rare and in high demand. The likes of Jos Buttler, Quinton de Kock and Dinesh Karthik are likely to attract big bids.
The same is true for wristspinners who have been hugely influential in T20 over the last three or four years, but there are only a few really good ones around. The use of wristspinners as wicket-taking options in the middle overs has been a tried and tested strategy in the IPL, and the likes of Yuzvendra Chahal, Kuldeep Yadav and Rashid Khan, as well as a few young domestic legspinners, will be highly sought-after. These bowlers are likely to play all 14 games, which makes it important that the franchises pick up the best possible option.
The uncapped effect
It has become important, over the last two seasons, for teams to have strong uncapped players in their squad. Teams featuring less-known faces performing consistently often tend to make the playoffs. Examples of this would include Rahul Tripathi for Rising Pune Supergiant last season, Krunal Pandya for Mumbai over the last two seasons, and Manan Vohra for Kings XI in 2014.
If their scouts have followed domestic cricket closely across the world, it becomes likelier that a franchise will sign the right uncapped talent. Krunal, Jofra Archer and D'Arcy Short are likely to attract plenty of attention, as are some of the players currently playing the Under-19 World Cup in New Zealand, particularly those from India's squad.